Get it?  It's sort of a play on words that sounds phonetically like 'filet mignon'.  You like that shit?  Well I do, and let me tell you why.  Because a buddy and I invented it.  And not just the term.  The drink.  I unfortunately cannot divulge the exact ingredients, but I will tell you it has a little vodka and a lot of flame in it.  Yes, you set that bitch on fire in the glass.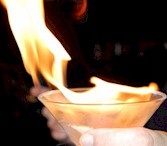 And yes you quaff it while it's burning blue.  And yes – well, no, uh, I would um, probably recommend you stay away from The Flaming Yawn if you're wearing a decorative beard.
We discovered this drink while sitting at the Space Bar a couple of nights ago.  I poured in the several key ingredients and attacked the martini glass with my trusty Zippo.  Poof.  The gorgeous flame covered the glass like a – well, like flame covers alcohol.  And then I drank it.  You'd be surprised how subtle and wonderful the taste is.  It's exotic, yes, but very cool and classy in the flavor department.