So by now we've all gotten our relief checks in the mail. Right? If you haven't, then please stop reading here. I don't want to spoil the surprise for you.
Yeah, so I got mine this morning. Well, it didn't come in the mail, as such. It just sort of came in my bank account. That sounds unnatural and disgusting. It arrived in my account. How's that? And let me tell you what a relief it was.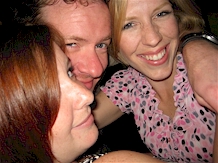 The relief comes in that I can finally stop waiting around for the right time to buy that Nikon D90 Digital SLR Camera. That, friends, is a Relief. With a Capital R. With a DSLR, you can take fantastic pictures. Not just great ones. For instance, check out this picture I took last night during happy hour. Your typical, standard extended-arm shot. Those are never superior quality. It's pretty excellent since it's a Canon Elph, but with a DSLR, it would look like a high-def window into reality. That's what I'm going for, friends.
Anyway, I got a little off topic. My point here is the relief check we're all getting. And while I don't really have a problem with it as such, I mean – who doesn't want a nice check? – I think I'd rather have a government who didn't freakin' take it from me in the first place! Had you not ass-raped me like Tommy got in prison, all throughout the year, you wouldn't feel guilty. Like you needed to give a little back. And it follows that I wouldn't really need it. I'm not complaining though. And in fact, it leads me to my next point.
I'd like to thank the IRS for sending me this money. And I'd like to see a trend start here. Instead of seeing Exxon/Mobil execs giving high-fives when the next quarterly earnings report comes out, I'd like to see them sit down and say, "You know what? We should give a little back to the people. As a thank you for buying our gas and making us stupid rich." And then we all get an Exxon/Mobil Relief Check in the mail. For several hundred thousand dollars each. No, I didn't mis-write that. You didn't misread it. Think about it. Last year they posted profits of thirteen billion dollars. They could have paid two dollars to every single person in the world, and still broke even. And that counts people who don't even know what gas is. Not this kind of gas anyway.
But no, that will never happen. The poor stay poor, the rich get rich – that's how it goes. And everybody knows. But seriously, could they not say, "Thank you, friends. For the next 90 days, gas will be ninety-nine cents a gallon."? Yeah, I think they could. Cuts their profits by several billion, but then they're selling so much damn gas that it swings back the other way. Meh. I've obviously spent too long thinking about this shit, and alls it ever does is piss me off.
So tell me what you plan to spend your relief check on. Let's see who's getting the coolest shit.