Back from a crazy weekend. Sorry I'm tardy with the column. When you have a weekend as crazy as mine was, it's hard to get up on Monday morning and write one before the sun comes up. It's also damn near impossible to write one the night before because you're tied up in the craziness of the weekend. I'm going to talk more about my camera though.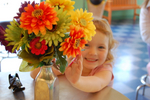 Oh, I didn't tell you I got one? Well I told you I was going to get one. I got one. It's only 6.1 megapixels. Not that impressive by number, right? But being an SLR, it really uses those on every picture. No digital zoom, no pixel interpolation, just plain bad ass pixelry. You like that word? Pixelry means 'the ability to utilize pixels'. Anyway, this one is one of my favorites. Took Callie to the ice cream shoppe. And took 200 something pictures. Now keep in mind, I've sized these down to 800 by 600. The originals were 3000 by 2000. I hope none of the quality was lost.

The second one was – well, it's obvious what it was. Just a good photo using natural daylight.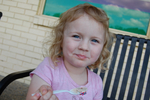 I got the camera at a really good price from Wolf. He talked me into throwing in an extra hundred dollars, and gave me a camera bag, two instructional DVDs, a telephoto lens, coupons for a bunch of free shit, and two tickets to two classes where I can learn more about digital photography. That's some pretty good shit for a hundred bucks. Plus, who doesn't want an extra lens?
So I feel like now that I have the equipment, I can release the photographer in me.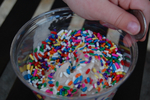 He's been wanting and fighting to get out for some years, but has been trapped behind the cute little SD1000 PowerShot. Great camera. Just uh, well, not an SLR. So this third picture I'm not going to link to the full-scale. I'm going to link it to a full-size cut-out of just a cropped portion of the picture. So it has been cropped, but not sized down. It should give you a better idea of the detail this camera captures.
Okay, so enough about the camera. Now let's talk about Trey's party. Oh, please allow me to show you just one more picture. Yeah. Pyramid of women at an all-white party. It just got crazier from there. Trey's place is kind of nice. He built a little waterfall that was kind of nice. No big deal though. You know, just making the place look presentable. I should illustrate here that the camera I used to take these pictures was not my big expensive SLR. Sorry.
This is skipping, of course, right past Saturday morning, where we played a gig at 0930 in front of a high school to a bunch of screaming high school girls. Seriously. There were no guys there. Not that I'm complaining, but I'm just a little confused as to why it was the way it was.
Then Sunday was my sister's birthday. Pool. Drinking. Cake. The whole nine. But when you've been to a party the night before where there were pyramids of women in white bikinis, a small family event just doesn't feel the same. Oh well. Happy birthday Sah.