Shit, piss, f**k, cunt, c**ksucker, motherf**ker, tits – fart, turd and twat. That's what I wanted to scream out this morning when I heard George Carlin passed away last night. He died of heart failure in the hospital at the age of 71. Supposedly he checked himself in yesterday afternoon, complaining of chest pains. Now he's dead.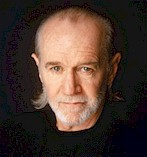 Carlin was my favorite comedian of all time. He speaks to the commoner with his jokes, and relates to us in those little ways that remind us we're all human. Like, "Have you ever looked at your watch, and then didn't know what time it was? So you look again, and you still don't know. So you look again, then someone asks you – 'What time is it?' – and you say, 'I don't have any freakin' clue!'" Almost all of his jokes were like that in early years.
Here in the last ten or so years, he's gotten really bitter and mad, turning most of his material to religion and politics. He's just an angry old man. It got to where only about ten percent of his programs would have funny material in them. But I still held out for the great humor. He was rich with it. After all, who else can open a stand-up bit with, "Have you ever noticed that most of the women who are against abortion are women you wouldn't wanna f**k in the first place?"
It's been a long time since I saw my first Carlin HBO special, Carlin at Carnegie. Then I watched Carlin on Campus. I actually watched both of those tapes so many times I wore them out. But I've committed to memory most of his material, and it's always good for a quote. Just like people will throw in movie quotes (and usually from Pulp Fiction) during a pertinent part of the conversation, I like to throw in a Carlin quote. "Could be meat… Could be cake!" I'm going to miss this guy. Rest in Peace, George.